It's time for Friday Favorites hosted by the lovely Kibby over at Something of the Book! Head to her page for the rules and prompts! This is a weekly meme hosted every Friday where you can show off your favorites (or least favorites) based on her weekly prompts.
This weeks prompt is Favorite Teacher/Mentor Characters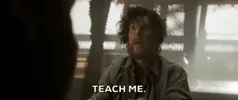 ---
Rowan Whitethorn
From the Throne of Glass series Rowan enters our lives in book three, Heir of Fire. He is tasked with teaching Aelin how to summon, use, and control her powers. While he makes some mistakes along the way Rowan is a terrific mentor and I would say he taught Aelin very well.
---
Albus Dumbledore
This one could be controversial, I know people are very opinionated on Dumbledore's treatment towards Harry and how he basically raised him for slaughter, BUT, I still feel that Dumbledore had Harry's best interest at heart. He was a great teacher and an even better Headmaster and I think he helped shape Harry into the man he ended up becoming. I mean, he must have meant something to Harry since he named one of his kids after him ¯\_(ツ)_/¯
---
Gandalf
How could I not include Gandalf in this list of wonderful literary teachers and mentors? Gandalf is the perfect teacher and is wise beyond his many years.
"Courage will now be your best defence against the storm that is at hand-—that and such hope as I bring." 
---
Scythe Faraday
Scythe Faraday, from the Arc of a Scythe series, is a marvelous mentor towards Citra and Rowan. I just posted the other day on my bookstagram about these magnificent books and I feel the need for a reread, even though the ending to Thunderhead still has me shOOK.
---
Lazlo Strange
Lazlo Lazlo Lazlo, what can I say. How I adore you. How I loved your stories and hope for more. Lazlo Strange is, to me at least, the ultimate teacher and mentor. He taught so many how to open their minds and their eyes. Nothing more needs to be said on Lazlo's brilliance because my words would never be good enough. Just, go read Strange the Dreamer and Muse of Nightmares.
---
These are some of my favorite teacher and mentor characters! Who are yours?