It's time for Friday Favorites hosted by the lovely Kibby over at Something of the Book! Head to her page for the rules and prompts! This is a weekly meme hosted every Friday where you can show off your favorites (or least favorites) based on her weekly prompts.
This weeks prompt is favorite Fictional Criminals.
In no particular order:
---
The Dregs
Kaz and crew were the first criminals that came to mind, and how could they not!? Their whole story is about a crazy heist! SUCH A GOOD BOOK. Probably time for a reread.
---
Jack Sparrow
He'll steal your gold, he'll steal your jewels, he'll steal your ship, and he'll steal your heart.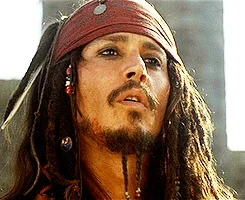 ---
Cardan Greenbriar
He stole my heart okay.
---
Okay because Kibby is mean and picks hard prompts and I kind of want to play The Sims I am going to cut this post short at just three fictional criminals 😂😬 to be fair though, Kibby's Friday Favorites rules say you can have as many or as few as you want so here I am with my shortest list yet 🤷‍♀️ I also want to point out I don't have the best memory and most stories I remember there isn't any thieving, just fantasy creatures frolicking around stabbing each other.
Who are your favorite fictional criminals?
You can also find me here: Goodreads | Instagram | Twitter